Welcome
Welcome to Tricklebrook Fishery
Lakes Open respecting the Covid-19 Rules
Due to Covid-19 please read all our rules as these may change daily!
Please also note you MUST adhere to our Covid-19 Rules.
1 Guest allowed by prior arrangement only. All sessions must be booked and paid for in advance by card. No refunds. Please call 07743955812 to make a booking at the moment. Do not use the booking form on our website. Day Tickets & Night Fishing now allowed. Match lake open. Opening times 7am to 7pm when gates close. No sharing of tackle i.e landing nets, unhooking mats, weigh slings. Social distancing to be observed at all times. Only 1 person at a time in the toilets and all anglers will be required to wipe down the taps etc with the cleansing wipes provided.
These rules are in addition to or amendments to our existing rules and anyone not observing these rules will be asked to leave immediately with no refund being given.

Thanks for your understanding!

Tricklebrook Fishery has two 4 acre specimen lakes and a 1 acre match lake nestled in the beautiful Kent countryside. Established since 1996 we have continued to grow and are regularly featured in fishing magazines. We are renowned for SUGAR and ARTHUR our resident large carp, both regularly weighing in up to 40lbs. We pride ourselves on our ability to accommodate our fisherman needs.

Featured in Angling Times 'Big Fish Waters'

*NEW 4 acre Specimen Carp Lake NOW OPEN*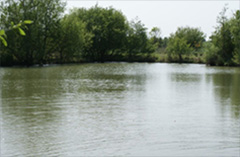 FAQs
Photos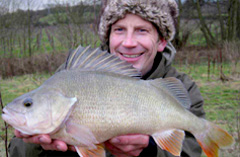 Contact
This fantastic coarse fishery consists of three very well stocked coarse fishing lakes, a new 4 acre specimen carp lake, a long established 4 acre specimen lake stocked with some big fish and a 1 acre match fishing lake.
Established since 1996 we have continued to grow and are regularly featured in fishing magazines. Our lakes are superbly stocked with a full compliment of coarse fish species so the fishing is interesting... but it's our big Carp, big Perch and big Catfish that we're renowned for.
Tricklebrook Fishery's newly opened specimen carp lake is well stocked with a variety of fighting fit carp up to and over the 30lbs mark and is fishing well. In our main specimen lake you'll catch a variety of species, carp in the 20lbs plus range and around a dozen 30lbs plus fish including a couple of carp weighing in over 40lbs. In addition we have 30lbs plus catfish and perch weighing up to 6lbs. Our match lake available for float fisherman and novices is also well stocked with a variety of fish species weighing up to 28lbs. Our lakes include roach, grass carp, tench and the odd surprise!
We pride ourselves on our ability to accommodate the needs of our fishermen. With ample hard standing parking and easy access to the lakes, bait, refreshments, breakfast on request and toilet facilities available these lakes are very well kept, easy to get to and set in the beautiful Garden of England. Making Tricklebrook an ideal venue for a spot of relaxation and some serious fishing fun.
Address
Tricklebrook Fishery
Colts Hill
Five Oak Green
Kent
TN12 6SH
Telephone / Mobile
01892835453 / 07743955812
Email

Add us on facebook
facebook.com/tricklebrookfishery

Follow us on twitter
Privacy Policy
//
Web Design Kent
by
ufruity
Coarse Fishing Kent | Coarse Fishery Kent | Carp Fishing Kent | Perch Fishing Kent | Big Carp Fishery | Angling in South East | Coarse Fishery in South East